Illustrator in Wahiawa, Hawaii. Local-grown haole. Children's librarian. Painter of things – mostly produce and angry little girls.
Update, February, 2019: I've got some book stuff going on, so I am not taking illustration or painting projects until at least June. Friends and family can try to coerce me over text/email.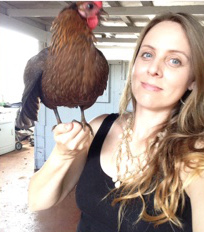 Publications
Keala and the Hawaiian Bird (fall 2017, Mutual Publishing)
All Pau with Diapers
Keala Up a Tree
Maka the Magic Music Maker
Little Mouse's Hawaiian Christmas Present
Maile and the Huli Hula Chicken
If You Were a Dinosaur in Hawaii
No Slippers!
Education
MLIS, University of Hawaii at Manoa
BFA, Ringling College of Art and Design
Molokai High & Intermediate School
Special skills
barnyard songs/melodious quacking
morbid bibliomancy