Illustrator in Wahiawa, Hawaii. Children's librarian. Painter of things.
After graduating from Molokai High in 1997, I earned my BFA at Ringling College of Art and began illustrating children's books while working on my Master's degree at UH Manoa. I finally started oil painting in 2017, once my children were old enough not to poison themselves by eating radioactive paint. My favorite subjects are leafy branches, nuts/fruits, portraits, and chickens. Landscapes are my natural enemy. I work mostly on aluminum panels and paper.
I am not accepting commissions. Prints will be announced on instagram as they're available.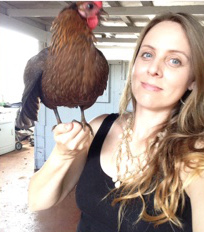 Publications
Saving the Fairies
Keala and the Hawaiian Bird (fall 2017, Mutual Publishing)
All Pau with Diapers
Keala Up a Tree
Maka the Magic Music Maker
Little Mouse's Hawaiian Christmas Present
Maile and the Huli Hula Chicken
If You Were a Dinosaur in Hawaii
No Slippers!
Education
MLIS, University of Hawaii at Manoa
BFA, Ringling College of Art and Design
Molokai High & Intermediate School
Special skills
barnyard songs/melodious quacking
morbid bibliomancy