Illustrator in Wahiawa, Hawaii. Local-grown haole. Children's librarian. Painter of things – mostly produce and angry little girls.
After graduating from Molokai High in 1997, I got my BFA at Ringling College of Art and began illustrating children's books while working on my Master's degree at UH Manoa. I finally started oil painting in 2017, once my children were old enough not to poison themselves by eating radioactive paint. My paintings tend to be small, and I try to finish them in one sitting, because I paint mostly on Mondays while the library is closed. My favorite subjects are leafy branches, nuts/fruits, portraits, and chickens. Landscapes are my natural enemy. I work mostly on aluminum panels and paper.
email me at: hbraffet@gmail.com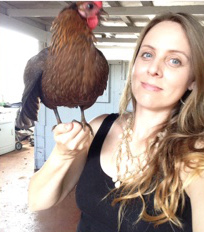 Publications
Saving the Fairies
Keala and the Hawaiian Bird (fall 2017, Mutual Publishing)
All Pau with Diapers
Keala Up a Tree
Maka the Magic Music Maker
Little Mouse's Hawaiian Christmas Present
Maile and the Huli Hula Chicken
If You Were a Dinosaur in Hawaii
No Slippers!
Education
MLIS, University of Hawaii at Manoa
BFA, Ringling College of Art and Design
Molokai High & Intermediate School
Special skills
barnyard songs/melodious quacking
morbid bibliomancy